One of the blogs I really admire is

The Positivity Blog

. I'm a subscriber so I have the pleasure of receiving uplifting emails which go into some detail on how to make life more positive. I rather like Winnie the Pooh's guide to a happier life. Click

here

to read it

.

I've posted an extract below:
Winnie the Pooh's Guide to a Happier Life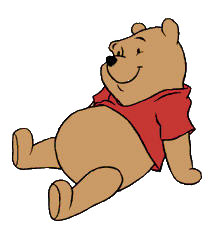 "Did you ever stop to think, and forget to start again?"
"Well," said Pooh, "what I like best — " and then he had to stop and think. Because although eating honey was a very good thing to do, there was a moment just before you began to eat it which was better than when you were, but he didn't know what it was called."
Do nothing once in a while.
"Don't underestimate the value of Doing Nothing, of just going along, listening to all the things you can't hear, and not bothering."
Although it feels good to work towards you goals and doing the things you love I find that things go better and I feel better if there is balance. If I just take some time each week to do pretty much nothing. If I just spend time with myself on a solitary walk for example while listening to the birds.
It may sounds slightly cheesy but if you don't unload your mind and just relax and do nothing sometimes then life tend to get more burdensome and difficult than it needs to be.
Appreciate the little things.
"Nobody can be uncheered with a balloon"
Daily happiness is to a large part about appreciating the small things. If you just allow yourself to be happy when accomplishing a big goal or when having some great luck then you are making life harder than it needs to be.
Instead, focus on appreciating things that you may take for granted.
Take two minutes and find things in your life you can appreciate now. If you want a few suggestions, here are a few of the things that I like to appreciate:
My food.
The weather.
My health.
Friends and family.
This blog and the opportunity to write about what I want.
You, the reader.
Myself and the fine things about me.
The funny thing is that if you just start appreciating something you can very quickly start jumping around with your attention and appreciate just about anything around you. You may start with the food you are eating right now. Then move your attention to the phone and appreciate that you can contact anyone – and be contacted by anyone – you'd like. You might then move your attention outside, through the window and see the wonderful sunshine, then kids having fun with a football and then a really attractive person walking by. And so on.
Or you can take a couple of minutes each night and write down 5 things you are grateful for in a journal.
Doing any of these two exercises will over time make it easier to naturally in everyday situations be more appreciative and grateful for your life.